Synthetic v Human Hair

Human hair wigs are made from varying qualities of hair. Some - Usually shorter styles are cheap & cheerful, made from offcuts of hair and may be blended with heat-friendly synthetic fibre. Others are made from the finest 'Remy' hair. Remy hair is hair that is 'cuticle correct' ie; Hair that lays in the same direction from root to tip as it was when it was cut, which prevents the hair from tangling & matting.


"A human hair wig offers more versatility, longer durability and custom styling and colouring available, it does however require more styling and looking after than a synthetic wig."
SYNTHETIC HAIR
Synthetic hair wigs are made from high quality fibre that looks and feels just like real hair. The difference is that the fibre is often lighter, plus will come pre-styled and will hold it style wear after wear.
"A synthetic wig is easy to maintain, is less expensive than human hair, & easy to style as it comes pre-styled and is often lighter than human hair."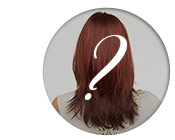 Both human hair and synthetic hair have advantages and limitations, but how do you know which is best for you? Here are the facts so you can work out which best suits your needs...
Human Hair
Has a natural look and feel
Offers styling versatility can be curled, straightened etc
It requires more care
It needs to be styled just like your own hair
Can be expensive
With proper care it can last up to a year
Synthetic hair
High quality synthetic hair looks and feels similar to human hair
Styling is limited as heated tools cannot be used
Requires less maintenance and will not lose shape or curls
Can wear it right out of the box
Is cheaper than human hair
With proper care can last 3 to 6 months